Here's another proven beauty for our region:
Botanical name: Vitis vinifera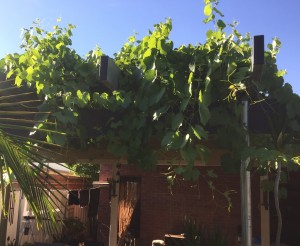 Common name:  Ornamental Grape (The Genus name Vitis is the Latin name for grapevine)
Origin: Native to the Mediterranean region, Central Europe, and South Western Asia from Morocco and Portugal North to Southern Germany and East to Northern Iran
Height: Limited only by the structure that supports it
Form: Quick growing, spreading deciduous climber
Leaves: Typical grape-like foliage that has beautiful Autumn colours, from orange to red to purple
Flowers: Not grown for flower
Fruit:  Ornamental fruit will attract birds, but will abort fruit and not set like other production grapevines
Propagation: Cuttings and suckers
Where will it grow? : Will grow in most parts of Australia except tropical north and subtropical coastal northern NSW and Queensland. It loves full sun and good drainage.
Comments: This vine will give you the Mediterranean feel and look without the maintenance. It does drop leaves, but this is a small price to pay for the amazing shade it provides (just check out 27 Deakin in Mildura!)
Uses: Great to cover a pergola for summer shade and winter sun (make sure your pergola is built to handle this vine). Can be used to soften the look of a side fence or unsightly structure, but will need support to do this ie: trellis. Great for Autumn colour in a floral arrangement
Looking after: Needs to be trained during the growing season to get best results for pergola and fence cover. It will need to be thinned out during dormant period and dead wooded. Allow new growth to go a bit wild before you pull it back in line, so you don't reduce the vigour of the cane. Remember to fertilise in Spring
Where can I see it? The Grand in Mildura, Red Cliffs centre car parking
Where can I get it? Mildura Native Nursery
Until Next time 
"Get out and Get Dirty"